Animal Kingdom is a great park for drinking. There's a great full service bar up in Africa, A nice frozen drink stand over by Flights of Wonder, and good beer is available at all of the counter service food places.
We recommend doing Expedition Everest early in the day before the serious drinking begins. Kali River Rapids however is much more fun after a few drinks.
Dawa Bar
Location: Africa (outdoor bar, next to Tuskers Buffet)
D.A.D. TOP PICK Read Our Review
Bottled Beers - Miller Lite, Bud Light, Coors Light, Corona, Heineken, Yuengling, Bass Ale, Tuskers Draft Beers - Budweiser, Michelob Ultra, Safari Amber
Specialy Cocktails: We Recommend the Harambe Cooler - Light rum, Myers dark rum & fruit punch; Rum Runner - Creme de banana, blackberry brandy, Myers & fruit punch; Lost on the Safari - Light rum, Captain Morgan Spiced Rum, fruit punch Frozen Pina Colada, Frozen Strawberry Daquiri Bloody Mary - Wild or mild
Quality Beverages
Location: Asia (in The Yak & Yeti)
Beer - Foster's Oil Can, Kingfisher Lager, Harbin, Kirin Ichiban Light, Singha, Tiger, Tsingtao, Asahi Super Dry, or Sapporo. Draft Beer - Bud light or Safari Amber
Wine - Beringer White Zinfandel, Yellow Tail Shiraz, Ecco Domani Pinot Grigo, Blackstone Merlot, Geyser Peak Sauvignon Blanc, Kendall-Jackson Chardonnay.
Lots of specialty drinks including: Emperor Margarita - Jose Cuervo Gold, and Grand Marnier; Yak Attack - Mango daiquiri, Bacardi light rum, and wild berry flavors.
Flame Tree Barbecue
Location: Discovery Island by Dino Land
Draft Beer - Bud Light or Safari Amber Specialty Brew
Frozen Lemonade Stand
Location: Between Asia and Africa.
Bud Light.
Harambe Popcorn
Location: Africa
Budweiser or Bud Light.
Pizzafari
Location: Safari Village
Draft Beer - Budweiser or Safari Amber Specialty Brew.
Wine - Pinot Grigio, Chardonnay, or Merlot
Restaurantosaurus
Location: DinoLand U.S.A.
Draft Beer - Bud Light or Safari Amber Specialty Brew
Safari Turkey
Location: Safari Area
Bud Light
Rainforest Café
Location: Main Entrance of the Theme Park
Features The Mushroom Bar - Full Bar
Tusker House Restaurant
Buffet Full Meals
Location: Africa
Full service Bar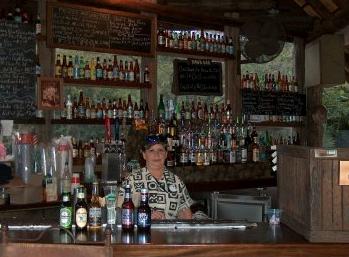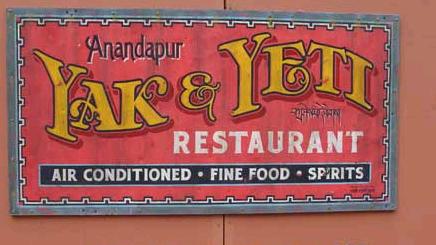 Quality Beverages at the Yak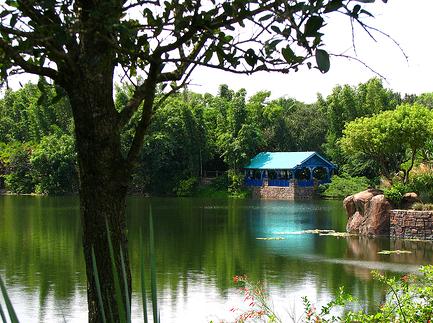 The view from Flame Tree BBQ
Indoor Seating at Pizzafari